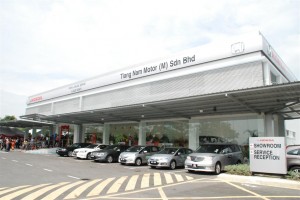 Honda Malaysia recently officiated the opening of its new 3S Center in Setia Alam to accommodate the growing market for Honda vehicles in that vicinity and provide better accessibility.
Tiong Nam Motor is the latest and biggest Honda 3S center in the Shah Alam-Klang area that offers sales, service and spare Parts under one roof.
Tiong Nam Motor invested RM7.3mil for the building, facilities and equipment in what is also the 60th Honda dealership in Malaysia. It is also the first 3S Center located in the Setia Alam township.
Leaving his mark: Rohime signing a plaque at the opening ceremony.
Honda Malaysia Managing Director and Chief Executive Officer Yoichiro Ueno said: "From the regional sales analysis, it was reported that there is a good market acceptance for Honda vehicles in Selangor. Sales in the state accounted for 24% of Honda's national sales in 2011."
"However, we see this as more than sales. Our goal is to make these customers into loyal Honda customers who will keep coming back to Honda by providing them the most excellent customer service through an expanded network of dealerships. We believe that Tiong Nam Motor will be an important partner to achieve this goal with us."
Honda Malaysia President and Chief Operating Officer Rohime Shafie who officiated the opening said: "Tiong Nam Motor has a strong belief in Honda and understands the importance of having a good relationship with customers. It has built positive relationships at each touch point over the years with their customers. I am impressed with the effort that Tiong Nam Motor has put into this new Honda 3S Center to offer better services and facilities to Honda owners towards achieving customer satisfaction."
"A customer's interaction with Honda usually begins at a 3S Center and they will continue to interact with Honda throughout their ownership of the vehicle.
Also speaking at the launch, Yoon Wai Cheong, managing director and owner of Tiong Nam Motor (M) Sdn Bhd, said: "Tiong Nam Motor is inspired by Honda's success. Honda has succeeded in pursuing the Spirit of Excellence. We began our journey as a small repair workshop and today we are very proud to be part of the Honda family with a 3S Centre that can provide better services and accessibility for our customers.
"We aim to provide high quality services to ensure that all our customers are satisfied and keep coming back to us.
"The 3S concept is an essential component of Honda Malaysia's policy of prioritizing customer satisfaction while creating an enjoyable customer experience.
"Honda believes that a life-long relationship with the customer is forged when a purchase is made.
"Hence, it is of utmost importance for Honda to develop these relationships by providing consistent excellent services that are of the highest quality.
"Honda strives to achieve Customer Satisfaction No.1 It also emphasizes Honda Malaysia's goal to achieve what it calls 'lifetime ownership loyalty' among its customers."
Since its establishment, Honda Malaysia has been working closely with its dealers to improve their services by acquiring a 3S status that provides a total package of service and convenience to customers nationwide.
To date, there are a total of 60 Honda Dealers, of which 57 of them operate as Honda 3S Centers.
For appointment and operating hours, customers can contact Tiong Nam Motor at 03-3343 1111 or log on to www.honda.com.my for more information.
News source: thestar.com.my/metro/story.asp?file=/2012/4/14/metrobiz/11098190&sec=metrobiz