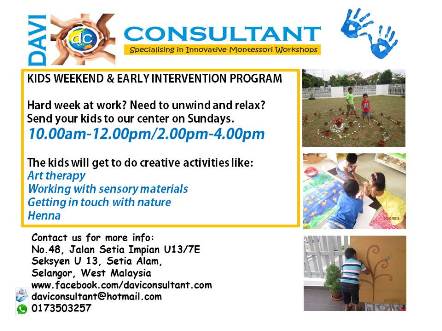 Business name: Davi Consultant
Address:
No.48 Jalan Setia Impian U13/7E, Seksyen U13, Setia Alam, Selangor.
Contact person: Ms. Mala
Contact no: 0173503257
Specialized in:
Early Intervention programme for children, educators and parents
Program:
Innovative Child Minders Workshop

The objective of this programm is to give insight and provide education on the proven method s of child development.

Multi -Sensory Experiential Learning

The objective of this programme is to raise awareness of the importance of early intervention in young children.

Role of Parents in the 21st Century

The role of Davi Consultant is to educate parents to understand the stages of growth and the positive influence of the adult role in the child.
Contact Davi Consultant by email:
[ccf_form id="2023″]